Hazrat Bagh Hussain Kamal's holiness Rehmatullah Alaih is such a God-conscious personality by whom many have attained the enlightenment and many more shall attain till the time ends.

When a canal outflows its waters out of its banks and to the adjacent lands, they become fertile and productive is the exact definition of "Faiz" and in reality, "Dar-ul-Faizan" is such a canal where the "Faiz" of the Holy Prophet Salalahualaihewasalam through Hazrat Bagh Hussain Kamal, outflows and benefits the hearts making them fertile and enlightened. The one who once comes in knows what it feels like to be bathed in the river.
---
Read more
View Contact Info
Construction Work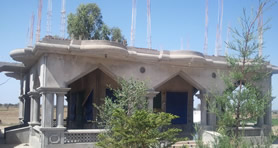 View Construction Work
---
Silsila Owaisia Kamalia
This is the silsila owaisia kamalia which has been given to Hazrat Bagh Hussain Kamal(RA).
Read more
---
Zikr e Khafi
All kamali companions should do zikr e khafi daily as per ordered by Hazrat Bagh Hussain kamal.
Read more
---
Durood -e- Kamali
This is the most favorite durood shareef of Hazrat Muhammad (SAW). Hazrat G has a record recitation of durood shareef ever.
Read more
---